BRAINVILLE 3 @ Auditorium FLOG (FI) 18.4.2008
BRAINVILLE 3
Hugh Hopper (Soft Machine – basso, loops), Daevid Allen (Soft Machine, Gong – chitarra, voce), Chris Cutler (Henry Cow, The Residents, Pere Ubu – batteria)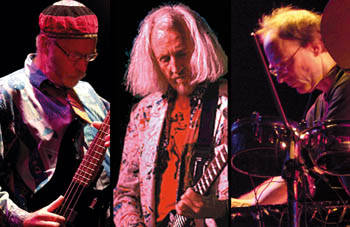 stasera all'Auditorium FLOG, Via M. Mercati 24, Firenze.
22:00
http://flog.it/
Brainville
From Wikipedia, the free encyclopedia
Brainville is a Canterbury scene supergroup based around Hugh Hopper (bass) and Daevid Allen (guitar) — both formerly in Soft Machine.
The band started as a quartet with Pip Pyle (drums) and Mark Kramer (keyboards, producer), touring the US and UK in 1998. They released a 1999 album called The Children's Crusade. Reduced to a trio, Brainville: Live in the UK, released as by "Daevid Allen with Hugh Hopper and Pip Pyle", came out in 2004.
The band, now Allen, Hopper and Chris Cutler (drums) operating as the Brainville 3, played shows in 2005-6.
This line-up played at the Canterbury Festival in October, 2006.
[edit] Discography
Brainville
Brainville 3
[edit] Sources and external links