Sunday, January 30th, 2011
[The following is taken from a leaflet that was passed around Lawrence,
Kansas sometime around 1986 or 1987]
FUCK PUNK
[by Tad Kepley]
Dear friends….
Punk Sucks. As every day goes by, it becomes more pathetic, choking itself
on its' own puke, and I'm through with it.
For several years, I've been involved in the "scene", and I'm tired. I give
too much and get nothing in return. Oh, yeah, I've seen you all. Snotty
rich kids hollering Anarchy, hyper-intelligent are farts quoting Sartre,
"lower class" anally retentive nazis, just plain idiots, hipsters like
me…..
I've always claimed myself as a part of the "scene"…I'm sick of people
who claim that they aren't part of the scene, yet still bleed off it to
bandage their insecurity. That is Punk. People who are hip, yet not quite
hip enough no not be hip…got that? If you don't, I'm sure there would be
a million self-contradicting upper-middle-class hippies' kids to tell you
what is up.
Why should class even come into this? Because I'm nauseated by rich kids
trying to act poor….it is almost as bad as poor kids trying to act
rich…social class is a big part of the scene. The kids who don't have
jobs, yet somehow seem to make it to every show and have huge record
collections, and the whole while whining about social injustice and nuclear
holocaust. They are secure, they can afford to worry about these things,
not to mention their shitty little problems and their shitty little
cliques, and shitty little mind games.
Recently, some idiot told me how he wished "these people" would "stop
acting like they're part of a subculture, punk's not important, it is too
elitist. The hippies and beats were more…etc…etc…punk isn't a
subculture, why don't these people realize they are just the same?" Why?
Because there are people in the scene.
Like any "movement" punk has its' rhetoric, some self-challenging, most
not. And most "movements" weren't even that until someone was moved to make
a movement. You can "believe" anything you want…you are only limited by
your imagination. "The truth shall make you free," say squeamishly correct
literary groupies, "and the more truthful you are, the freer you shall be."
Bullshit. We are all liars, and we are all social critics, and you can
only do your best, there is no such thing as perfection.
I'm tired of people creating secure realities and then pretending they
aren't a part of them, or becoming so much a part of them that they lose
sight of what their "original goals" were. Wait a minute…what if the
original goal was to lose track of goals?
Punk is hierarchical and inherently fascistic. People don't form bands in
the scene to "express themselves", politically or otherwise. They do it for
that nice warm feeling you get when someone kisses your ass. It's who you
know that matters, and the scene kings who proclaim it the loudest and most
vociferously are that doctrines most addicted practitioners. Ass kissing is
a drug. How are you going to change the world so you don't have to kiss ass
by spending all your time doing nothing butt?
Hey you punk "anarchists"…I call your bluff. Your anarchy isn't anarchy.
It is deadpanarchy. A deadpan reactionism. Yes, I too can say "fuck you" in
ten different languages, and I didn't pick it up from the little prince.
Some of you did, and will spout "Kropotkin this, Bakunin that." So what.
Pretty unanarchical of you to make fun of the people who come to the shows.
I don't need this shit. I have enough problems without letting all this
drag me down…this could go on forever…but it doesn't need to.
The "scene" meant alot to me…and did a great deal for me. And I paid for
my pleasure with jail terms, thousands of hours and dollars…and it isn't
fun, and I'm no freer.
Most of you who will be getting this are my friends. I haven't seem many of
you in a long time, and many of you I've never seen. I'll still go to
shows, and I'll still listen to the music, but punk and I are divorced.
This doesn't need to go on. You all know the "truth" anyway…time for me
to do the "hip" thing and move on.
Divisively yours,
Tad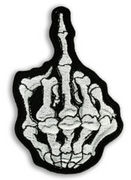 txt source http://www.spunk.org/texts/misc/sp000726.txt