Bob and Ray Throw a Stereo Spectacular
Space Age Pop # 2
Bob and Ray Throw a Stereo Spectacular (ristampa tedesca in vinile) – serie Living Stereo, etichetta RCA Victor, numero di catalogo LSP-1773; anno 1958.
Questo LP space age pop (vedi http://en.wikipedia.org/wiki/Space_age_pop ) è una perla nel suo genere, una raccolta di brani di vari artisti – fra cui Julie Andrews, Lena Horne, Abbe Lane e molti altri – intermezzata da delle divertenti gag sonore dei due famosi comici americani Bob and Ray (vedi http://en.wikipedia.org/wiki/Bob_and_Ray ). Le tracce di Bob e Ray contengono vari effetti sonori interessanti e anche molto buffi.
Un ringraziamento speciale a Miccia per avermi regalato questo LP dalla sua collezione.
Buon ascolto
copertina della ristampa in CD (clicca sulle immagini per ingrandire):
fronte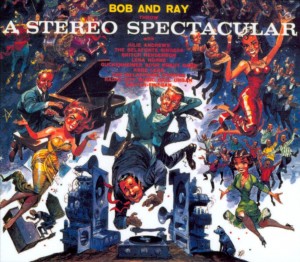 retro
just another service provided by Your friendly neighborhood…
THX 1138