21 Novembre: No Music Day. 22 novembre: Santa Cecilia
Ieri notte stavo leggendo alcune pagine del numero di The Wire (http://www.thewire.co.uk/) di questo novembre e sono venuto a conoscenza del No Music Day che si celebra il 21 novembre dal 2005 ed e' parte di un piano quinquennale. Mi sembra di capire dai messaggi lasciati sul sito http://www.nomusicday.com/ che la maggior parte della gente non ha aderito all'iniziativa, per vari motivi che sono riportati nei commenti dei vari visitatori (vedi sotto: statements for 2007); io non ero a conoscenza del No Music Day (e sono andato al Festival Dei Popoli a vedere due film della sezione filmare la musica fra l'altro molto interessanti: The cycles of the mental machine e Llik your idols; inoltre, come di consueto, ho ascoltato vari LP e composto delle musiche con il pc), ma l'iniziativa sembra interessante se non altro perche' ti da la possibilita' di esprimere un parere con un messaggio fruibile da tutti gli utenti del sito. Oggi 22 novembre si festeggia Santa Cecilia, patrona della musica.
Hail! Hail! Rock'n'Roll
THX
---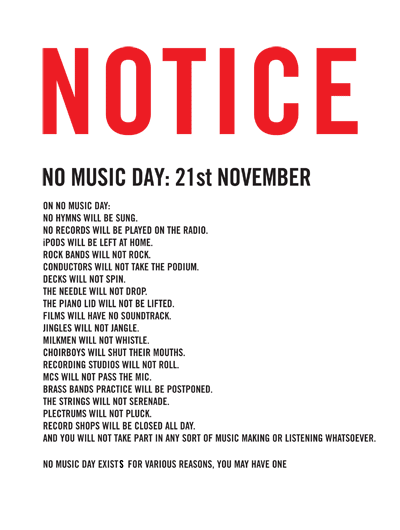 A five year plan – 2005 2006 2007 2008 2009
Statements for 2007: 1 –
100 of
219
| Page
1 of
3
1
2
3
next
I
am (or am not) observing No Music Day because: I acknowledge the need
to silence the infernal music continually circling my mind
I
will (or will not) be observing No Music Day by: spending the day much
as usual – I have a kind of music autism so I have to remind myself to
listen to it at the best of times – a no visual stimulation day would
be far more of a challenge for me
Leah Gordon
21/11/2007
I
am (or am not) observing No Music Day because: i have become repulsed
by music. it no longer interests me. no longer excites me.
I
will (or will not) be observing No Music Day by: making no effort to
hear music and thinking about how i can find a way to appreciate music
somehow
Survey of Society
21/11/2007
I am (or am not) observing No Music Day because: I love music.
I
will (or will not) be observing No Music Day by: hearing only the
aching silence that lurks beneath the cruddy radio 2 MOR with which I
am plagued by my work colleagues. Maybe the cold breath of an M62 east
wind will whistle, and drown out all that mogadon pop.
Mark the Spark
21/11/2007
I
am (or am not) observing No Music Day because: have you ever driven a
long distance exhausting your cd collection, and come to a point were
you turn the radio off and reval in the complete silence?
I
will (or will not) be observing No Music Day by: Listening to the
natural sounds of everyday life, a baby lauphing, a bird singing, rain
Al Leyva
21/11/2007
I
am (or am not) observing No Music Day because: unless you lock yourself
away in a padded cell or live on a desert island,it is virtually
impossible.
Deppo
21/11/2007
I am (or am not) observing No Music Day because: resistance is funky.
I
will (or will not) be observing No Music Day by: actively resisting the
impulse to listen to the music i cannot help hearing in my daily
activities.
stEvil
21/11/2007
I
am (or am not) observing No Music Day because: Music in its common mode
as ubiquitous background sound loses its potency, its ability to
delight. By shutting it down for a day, it can return with some
restored luster.
I will (or will not) be
observing No Music Day by: I heard about NO MUSIC DAY on an NPR
interview today, Nov 20, and decided on the spot to observe it as best
I can. The interviewer missed the point when she asked 'should I wish
you happy NO MUSIC DAY?' No, you should not. You should say 'happy St
Cecilia day', and recognize the no music fast as a way to purify
oneself for the return of music.
Landen Bain
21/11/2007
---
da
http://it.wikipedia.org/wiki/Santa_Cecilia
Patrona della musica [modifica]
È quanto mai incerto il motivo per cui Cecilia sarebbe diventata
patrona della musica. In realtà, un esplicito collegamento tra Cecilia
e la musica è documentato soltanto a partire dal tardo Medioevo. La
spiegazione più plausibile sembra quella di una errata interpretazione
dell'antifona di introito della messa nella festa della santa (e non di un brano della Passio come talvolta si afferma). Il testo di tale canto in latino sarebbe: "Cantantibus
organis, Cecilia virgo in corde suo soli Domino decantabat dicens: fiat
Domine cor meum et corpus meum inmaculatum ut non confundar"
("Mentre suonavano gli strumenti musicali (?), la vergine Cecilia
cantava nel suo cuore soltanto per il Signore, dicendo: Signore, il mio
cuore e il mio corpo siano immacolati affinché io non sia confusa").
Per dare un senso al testo, tradizionalmente lo si riferiva al
banchetto di nozze di Cecilia: mentre gli strumenti musicali (profani)
suonavano, Cecilia cantava a Dio interiormente. Da qui il passo ad una
interpretazione ancora più travisata era facile: Cecilia cantava a
Dio… con l'accompagnamento dell'organo! Si cominciò così, a partire dal XV secolo (nell'ambito del Gotico cortese) a raffigurare la santa con un piccolo organo portativo a fianco.
In realtà i codici più antichi non riportano questa lezione dell'antifona (e neanche quella che inizierebbe con Canentibus, sinonimo di Cantantibus), bensì Candentibus organis, Caecilia virgo….
Gli "organi", quindi, non sarebbero affatto strumenti musicali, ma gli
strumenti di tortura, e l'antifona descriverebbe Cecilia che "tra gli
strumenti di tortura incandescenti, cantava a Dio nel suo cuore".
L'antifona non si riferirebbe dunque al banchetto di nozze, bensì al
momento del martirio.
Dedicato alla santa, nel XIX secolo sorse il cosiddetto Movimento Ceciliano,
diffuso in Italia, Francia e Germania. Vi aderirono musicisti,
liturgisti e altri studiosi, che intendevano restituire dignità alla
musica liturgica sottraendola all'influsso del melodramma e della musica popolare. Sotto il nome di Santa Cecilia sorsero così scuole, associazioni e periodici.
Cecilia, in quanto patrona della musica e musicista lei stessa ha ispirato più di un capovolavoro artistico, tra cui l'Estasi di Santa Cecilia di Raffaello, oggi a Bologna (una copia della quale, realizzata da Guido Reni, si trova nella chiesa di San Luigi dei Francesi a Roma. Ricordiamo anche la Santa Cecilia di Rubens (a Berlino), del Domenichino (a Parigi), di Artemisia Gentileschi.
In letteratura, Cecilia è stata celebrata specialmente nei Racconti di Canterbury di Geoffrey Chaucer, in un'ode di John Dryden poi messa in musica da Haendel nel 1736, e più tardi da Hubert Parry (1889). Altre opere musicali dedicate a Cecilia includono l'Inno a santa Cecilia di Benjamin Britten, un Inno per santa Cecilia di Herbert Howells, una messa di Alessandro Scarlatti, la Messe Solennelle de Sainte Cécile di Charles Gounod e Hail, bright Cecilia! di Henry Purcell.