Thursday, January 13th, 2011
THE PRINCIPIA DISCORDIA
or, How I Found the Goddess and What I Did To Her When I Found Her
THE MAGNUM OPIATE OF MALACLYPSE THE YOUNGER
Wherein Is Explained Absolutely Everything Worth Knowing About Absolutely Anything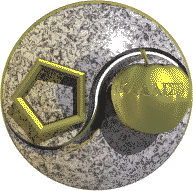 ---
Related Discordianism
---
Published By:
LOOMPANICS UNLIMITED
PO BOX 1197
Port Townsend, WA 98368
Transcribed to 1's and 0's by Dru'el the Chaotic,
WPI Discordian Society
Cabal of the Unemployed
Calendar generated from poeecal.C by Alan H. Martin/AHM,
Chaplain of the RMS dinner cabal, LDD, POEE
Edited and 5th edition introduction added by Selvarv
The Keeper of Rig
Hall of Flyting
Slowly Transmogrified Into HTML by Pope Patterson of the Bowels of the Asylum, Foobaz of the Slowly Inclining, and Wojot VII, chief Squido Speedo. Mondo cool ray-traced Chao supplied by acb.
And, of course, and most importantly, written by Mal-2 (Greg Hill), who doesn't nearly as much thanks for delivering unto us this giant thunk as he deserves. If we ever meet him, we promise to buy him the substance of his choice before whacking over the head and taking him to Venus by way of the Black Hell-o-copters.
---
Last modified: April 21, 1997
Keepers of the Kozmik Kodex
—
this page can be found also here:
http://www.cs.cmu.edu/~tilt/principia/
PrincipiaDiscordia.com — http://principiadiscordia.com/
—

The Numeral V Sign, used by Old Roman, Discordians, Illuminatus, Churchill and innocent Hippies everywhere.